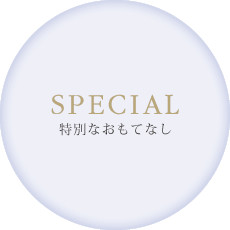 お二人の好みに合わせて作る特別ディナーやお二人のご希望にあわせたフォトロケーション。
お二人だけに特別なおもてなしをいたします。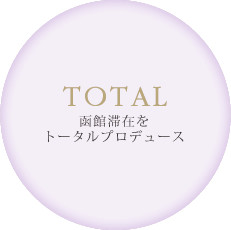 美食材を贅沢に使用した食や日本ならではの
季節に合わせたアクティビティなど
函館の滞在をトータルプロデュースします。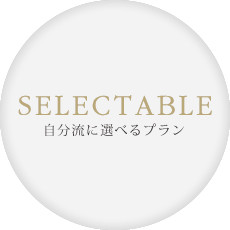 お二人が思い描くスタイルを叶える
様々なプランをご用意しております。
お二人のご希望を何でもお申し付けください。



函館市は、北海道の南に位置する人口約28万人の札幌・旭川に次いで第3の都市です。
東南北を太平洋と津軽海峡に囲まれ、市街地の西側には標高334mの函館山がそびえ立っています。
函館山から眺める展望は2011年『ミシュラン・グリーンガイド・ジャポン』で三ツ星を獲得しており、その他にも五稜郭跡や元町坂等多くのところでも星を頂きました。
また、函館市の年間平均気温は9.5℃と北海道内でも比較的温暖な気候ですので、どの季節に訪れても過ごしやすい土地柄となっております。 
市内の移動に関しては、バスまたは昔懐かしい路面電車を利用することで函館のほとんどの観光地を見てまわることができます。
Hakodate is located in the south of Hokkaido and the third largest city in the island with a population of approximately 280,000 after Sapporo and Asahikawa.

Hakodate is the city surrounded by the Tsugaru Strait from the 3 directions of east, south and north, and Mount Hakodate with an altitude of 334 meters stands on west of the city area.
The view from Mount Hakodate was given 3 stars by "2011 Michelin Green Guide Japan" and many other sites in Hakodate including Goryokaku Ruins and Motomachi Slope were also given stars.

Moreover, Hakodate city is comfortable every season, since the average annual temperature on Hakodate city is 9.5 degrees Celsius, which is relatively warm climate in Hokkaido.
Buses and retro streetcars are the main means of transportation in Hakodate and they will take you to most tourist spots in the city.

春 SPRING / 3月-5月 MARCH-MAY
3月に入ると寒さは和らぎますが薄手のコートが必要。4~5月に入っても朝晩は冷え込むので上着などで調節をしましょう。
In March, while the winter chill subsides, you will still need a light coat. In April and May, since the mornings and evenings get chilly, you had better bring a jacket.
秋 AUTUMN / 9月-11月 SEPTEMBER-NOVEMBER
9月に入ると涼しくなり過ごしやすくなります。10~11月には薄手のコートなど防寒の準備が必要となります。
In September, it gets cooler and more comfortable. From October to November, you will need something to protect against the cold, such as a light coat.
夏 SUMMER / 6月-8月 JUNE-AUGUST
6月下旬頃から暖かい日が増え、7~8月の日中は半袖やノースリーブで過ごせます。朝晩は寒い場合もあるので薄手の上着の用意をおすすめ。
Warmer days increase from late June, and during the daytime in July and August, short-sleeved or sleeveless clothes will do. However, we recommend you to bring a light jacket with you as it sometimes gets chilly in the mornings and evenings.
冬 WINTER / 12月-2月 DECEMBER-FEBRUARY
防寒着は必須。建物の中は暖かいので、あまり着込み過ぎないで厚手のコートやダウンジャケット、手袋やマフラーで調節しましょう。底が凸凹の滑りにくい靴をおすすめ。
Cold winter gear is a must. Since it is warm inside buildings, do not wear too many clothes, but dress lightly and put on a heavy coat or a down jacket, gloves, and a scarf when you go outside. Shoes with grip soles are recommended.